The 75F Central Control Unit (CCU) is the local interface and access point for the entire 75F System. In other words, the CCU is the gateway for the entire 75F system. In addition to being the local interface the 75F Central Control Unit (CCU) is also an equipment controller. Through the use of pre-programmed configurable profiles, the CCU can be used to control different types of HVAC equipment including heat pumps.
How it Works

.

For the purposes of this article let's say we have a single-zone heat pump RTU that serves a conference room and we want to control it with a Central Control Unit (CCU). First, we want to select the DAB staged profile on the CCU. Next, we want to configure the relay mapping to the following:

Configure Relay 1 (Y1) as Fan Medium Speed.

Configure Relay 2 (Y2 if applicable) as Fan High Speed

Configure Relay 3 (G) as Fan Low Speed

Configure Relay 5 (W2 if applicable) as Heating Stage 2 (Aux Heat)

Configure Relay 6 (O/B ''3-way or Reversing Valve'') as Cooling Stage 1 or Heating Stage 1

Note: Changing the mapping of the relays is a temporary workaround while the heat pump profile on the CCU is being developed. Always refer to the manufacturer's low-voltage wiring diagrams for your specific piece of equipment.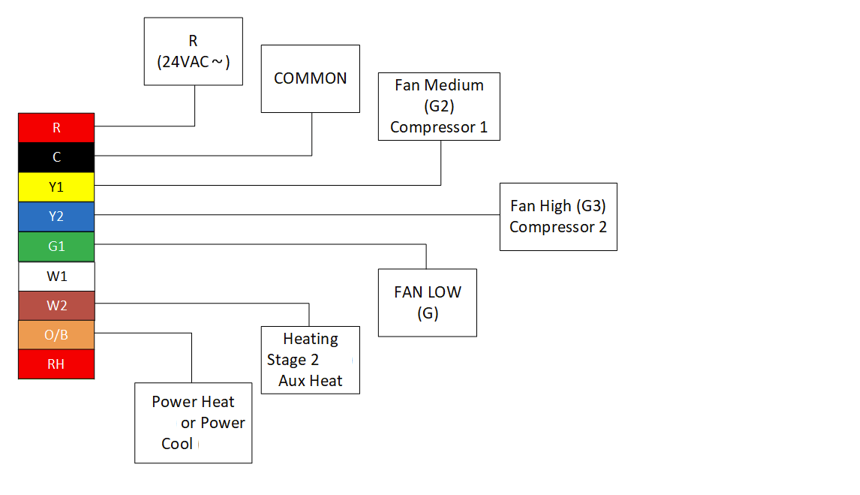 Below is an example of what the configuration looks like on the Central Control Unit (CCU).

For Additional Information, See the Following:
DAB Staged RTU -Wiring/Configuration
https://support.75f.io/hc/en-us/articles/360046984774-DAB-Staged-RTU-Wiring-Configuration
Central Control Unit Installation
https://support.75f.io/hc/en-us/articles/360047085093-Central-Control-Unit-Installation-