|How it works
Overview
The hardware HelioNode on the software side supports various profiles to provide enhanced control of equipment that is controlled and monitored by the 75F solution, for both modulating and multi-staged equipment.
It is a part of 75F's vertically integrated suite of intelligent building solutions, delivering multi-mode sensing, remote monitoring and individual zone control for comfort and productivity of building occupants.
It is a replacement for SmartNode, it has all the features the SmartNode had, and additionally it also has in built light, occupancy, temperature-humidity, and CO2 sensors. 
HelioNode is an advanced IoT room controller created for temperature, IAQ and lighting control in office buildings. It eliminates wiring runs or additional integration of sensors. Its low-profile blends with a most office environments and its versatile design allow it to be mounted on junction boxes, hard ceilings, or ceiling tiles.
It works seamlessly 'out of the box' with the Facilisight suite of applications, with thoughtful design touches which include, large cut-outs making it easy to install when wearing gloves, knurled edges for easy grip, a ring close design that is easy to lock/unlock when up on a ladder, a size that is easy to hold and finger holds behind the base plate to support the unit when pressing the buttons. The HelioNode dramatically cuts down the time to install and commission applications such as 
Dynamic Airflow Balancing (DAB) using Smart Dampers/ external actuators 
Variable Air Volume (VAV) based on ASHRAE GPC-36 
Advanced sequences for occupancy-based demand control ventilation (IAQ) compatible with ASHRAE 90.1 and ASHRAE 62.1 2018. 
Operation
HelioNode is powered by commonly run 24V ac or dc, using it you can control 2 Smart Dampers, or provide 2 0-10V analog out signals for external actuators or lights. With 2 relays you can provide additional versatility in terms of switching loads on or off. In addition, with a full RS 485 port with power and a low voltage sensor bus, you can extend its applications. 
|Configuration
HelioNode is integrated into existing CCU and is available as pairable option on the floor planner.
Below is a procedure to pair and configure a HelioNode profile.
From the Select Device type screen
Select SN Smart Node |HN Helio Node.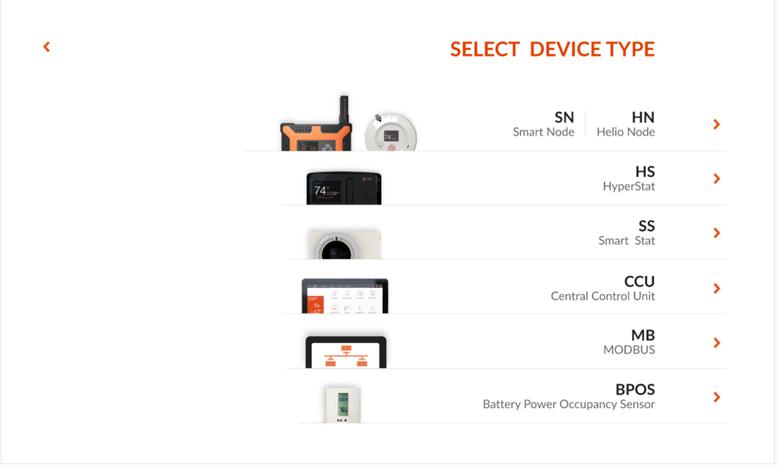 The Smart Node |Helio Node Select module Type screen is displayed with the following system profile options available for selection.
VAV with Reheat
Dynamic Airflow Balancing
Lighting
Temperature Monitoring
Central Plant Controller
Pi Loop Controller
Energy Meter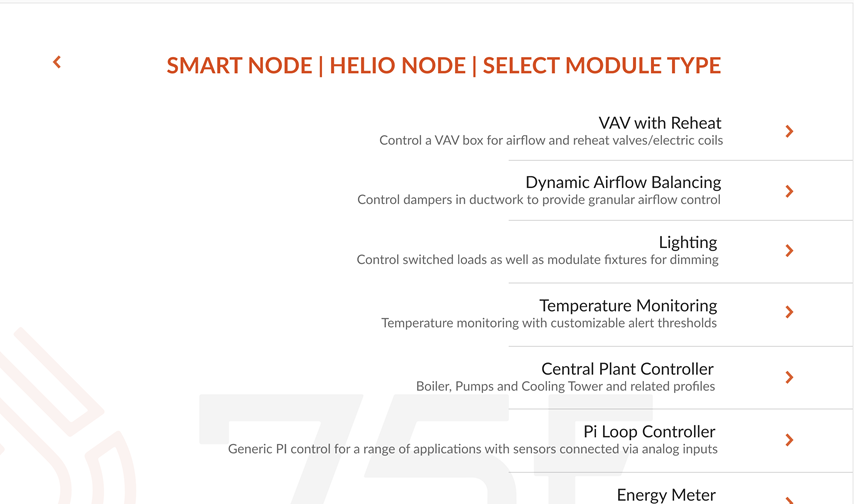 Click on any of the system level profile to collapse and find the types under it.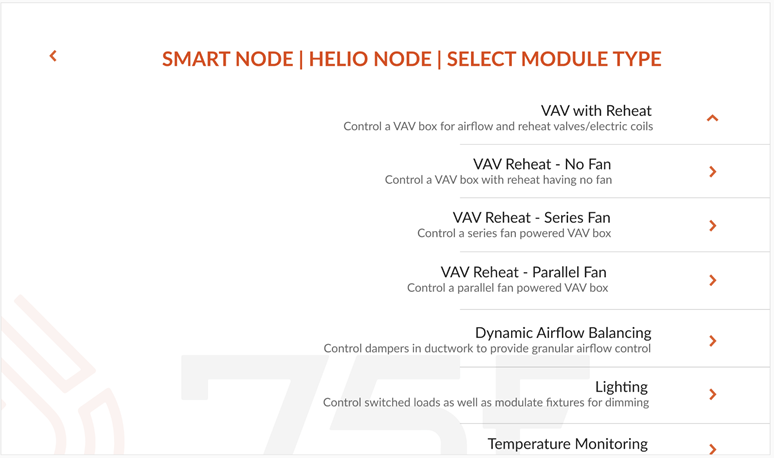 Click on any of the option from the list to view the configuration page.
The configuration for the respective profile selected is displayed with the configurable parameters.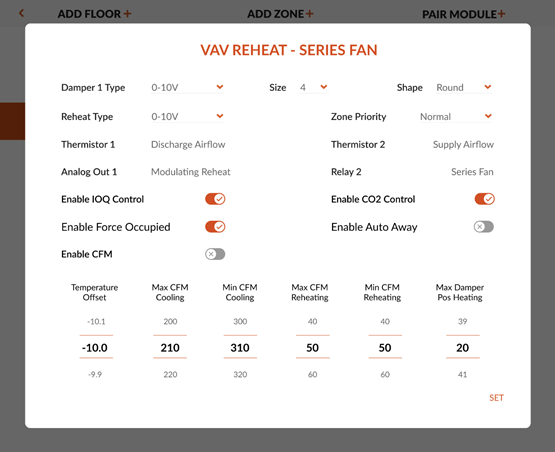 Once the Parameters are configured.
Click Set to confirm the parameters.
The Configured profile for the HelioNode profile of the BPOS is displayed as below.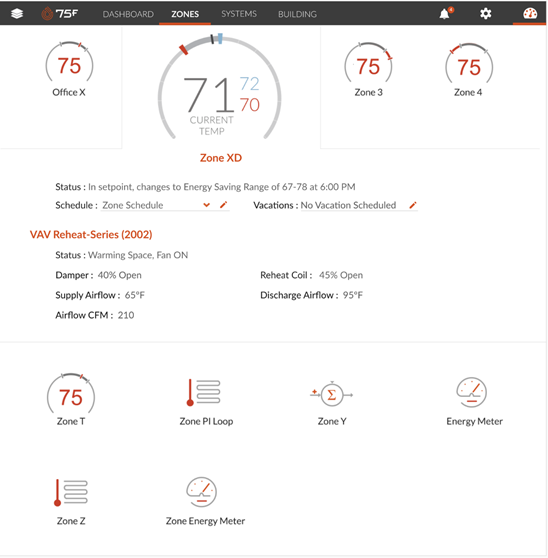 The configured profile for the HelioNode can be accessed from the portals as below.