Keywords
75F® CCU™
DAT Setpoint Reset
Daikin
MicroTech® III
IM 919-4
OM 920-7
0-10VDC
Introduction
The 75F® CCU™ allows you to properly control a MicroTech® III/Daikin unit using a 0-10VDC customizable signal to reset the discharge air temperature. The MicroTech®III controller external signal input is customizable as well, so you must make sure the settings on both matches.
Why control with 75F®?
The 75F® System is a cost-effective way to control, monitor and troubleshoot VAV zoned systems or a Single zone system with a Cloud based Building Automation System. The 75F®CCU™ gives the installer the option to reset the discharge air temperature with a 0-10vdc signal given the unit accepts an external reset signal.
Wiring at MicroTech®III
Physical Representation of Terminations needed for Control with 75F®CCU™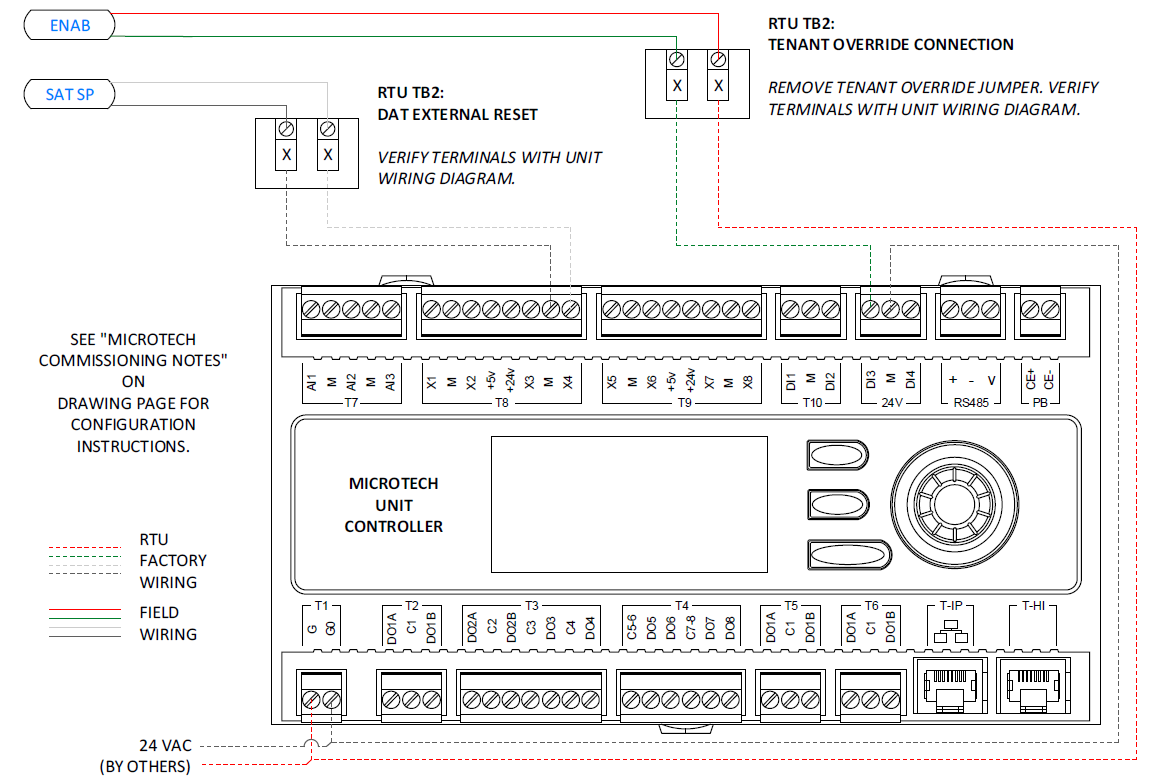 Time Clock/Tenant Override Termination (See Daikin IM 919-4 for reference)

The external time clock or a tenant override switch will be used by enabling a set of dry contacts (RH+G at the 75F®CCU™ Control Mote) across terminals 101 and 102 on the field terminal block (TB2). Larger tonnage Rebel models 16 tons and up will use terminal numbers 200 and 201, reference the wiring diagrams that were delivered with the unit in question. When these contacts close, 24 VAC is applied to binary input MCB-DI3, overriding any internal or network schedule and placing the unit into occupied operation (provided the unit is not manually disabled). When the contacts open (24 VAC is removed from MCB-DI3) the unit acts according to the controller internal time schedule or a network schedule. Refer to the unit wiring diagrams for specific wiring termination details.
External Discharge Air Reset Signal Termination (See Daikin IM 919-4 for reference)
The discharge air temperature set point on DAC units will be reset by an external voltage or current signal applied to analog input MCB-AIX4. Under commission unit, heating and cooling set up menus. External reset requires a field supplied reset signal (0–10VDC will be used) wired to terminals 132 and 133 on the field terminal block (TB2). Refer to the unit wiring diagrams or typical wiring diagrams on page 44 for wiring termination details. If the external reset option is selected, the controller linearly resets the cooling and heating discharge air temperature set points between user-programmed minimum and maximum values as the field supplied reset signal varies from a minimum to maximum (or maximum to minimum) value.
The external reset signal must be field-wired to the unit using a twisted pair, shielded cable (Belden 8761 or equivalent). Cable with 22 AWG conductors is sufficient.
Wiring at 75F®CCU™ CM Board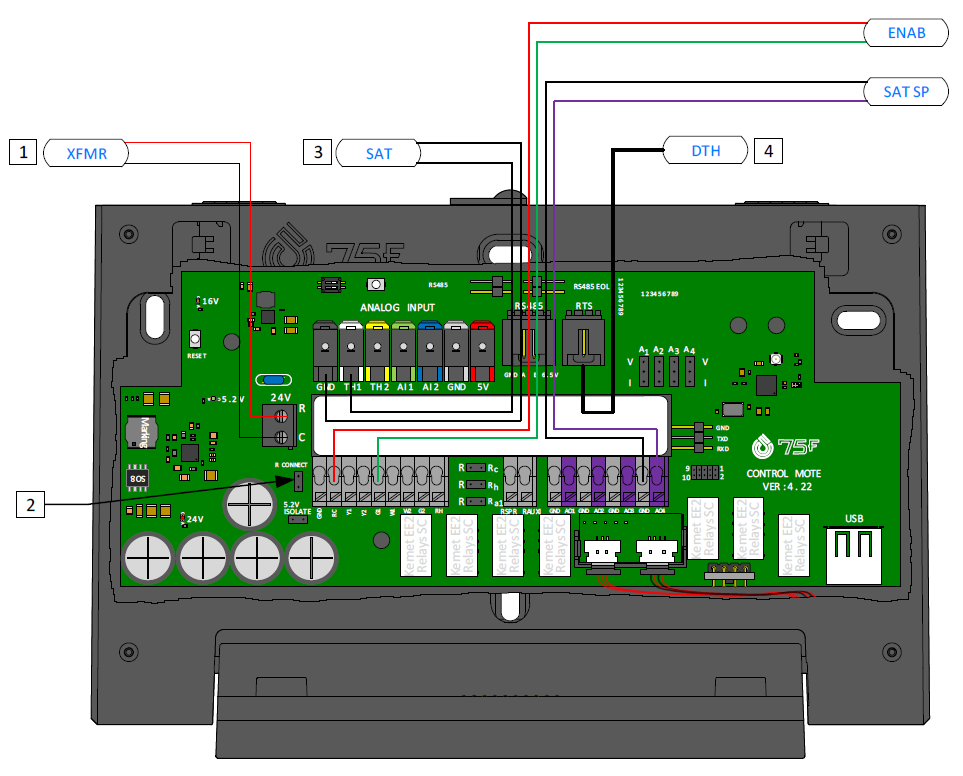 Notes:
75F®CCU™ power requirements = 0.8amps @24VAC/DC. A dedicated power supply must be used.
Remove R Connect (J14) jumper to use relays as dry contacts. Failure to do so will void the warranty.
A field installed 10K Type II thermistor will measure the supply air temperature at the unit's discharge ductwork.
Install either the 75F®Duct Sensor on the Return Ductwork or the 75F® Wall Sensor on an area served by the unit for backup or Temp Influencing zone. See 75F®CCU™ commissioning notes.
MicroTech®III Commissioning
MicroTech®III commissioning notes (see Daikin OM 920-7 for reference):
Go to 'Unit configuration' to verify unit is set for 'DAT' discharge air control.

Set the second digit in configuration to '1'.

Go to 'View/Set Unit' --> 'Occupancy'.

Set 'Occ Mode = Auto/Net'

Go to 'Commission Unit' --> 'Cooling Set-Up'

Set 'Clg Reset = ExtV'
Set 'Min Clg Spt = 55°F'
Set 'Min Clg Spt @ = 0.0 V'
Set 'Max Clg Spt = 85°F'
Set 'Max Clg Spt @ = 10.0 V'

Go to 'Commission Unit --> Unit Set-Up Menu'

Set 'Space Sensor = None'

Go to 'Commission Unit' --> Htg/Clg ChgOvr Set-Up'

Set 'Ctrl Temp Src = None'
Set 'Use Tstat Spt = No',
Set 'Aply Tstatchg = Yes' (Only if 'Use Tstat Spt' was changed)
75F®CCU™ Commissioning
System Profile will be configured as "VAV Advanced Hybrid AHU".
Enable: Relay-1(Cool Stg 1) Relay-3 (G1/Fan Stage 1) Relay-4 (Heat Stg 1) and Analog-out4 (AO4/Composite)
Set Analog-out4 mins and max as:
Analog-out4 at Min Cooling = 4V
Analog-out4 at Min Heating = 6V
Analog-out4 at Max Cooling = 0V
Analog-out4 at Max Heating = 10V
The following is only applicable if the unit is Single Zone System:
Pair Module and Select Device type as 'CCU'.
Select 'Temperature Influencing' type and configure as follows:

Zone Priority: Normal
Temp Offset: 0.0
Main Temperature/Humidity Sensor: Enabled
Probe 1 Temperature Sensor: Disabled
Probe 2 Temperature Sensor: Disabled
If a Multi-Zone system is being controller, refer to the Help Center section for installation and configuration of the Zone Terminal Units: