Keywords
75F® CCU™
Carrier®
Carrier® Humidi-Mizer®
WeatherMaster®
Cat. No. 04-811-70007
Form 48HC-4-14-08PD Rev C
Problem
You need an standalone humidistat to control the Humidi-Mizer® feature on the Carrier® WeatherMaster® Package Roof Top Unit. You have no visibility of what the humidistat is doing. Any issue with humidity control has to be addressed onsite.
Solution
The 75F® CCU™ allows you to properly control a Carrier® WeatherMaster® unit's Humidi-Mizer® using a contact closure based on a Relative Humidity percentage threshold. This threshold can be adjusted remotely to minimize service calls. De-hum function and average Relative Humidity can be monitored and aid in the troubleshooting process.
Why control with 75F®?
When 75F® System is used to control the comfort cooling/heating of the roof top unit using the humidity control sequence saves money by replacing a third party and totally standalone Humidistat and allows users to have visibility and control in one centralized user interface.
Wiring at WeatherMaster® RTU's with Humidi-Mizer® option
Humidi-Mizer® System Diagram (See Cat. No. 04-811-70007 for reference)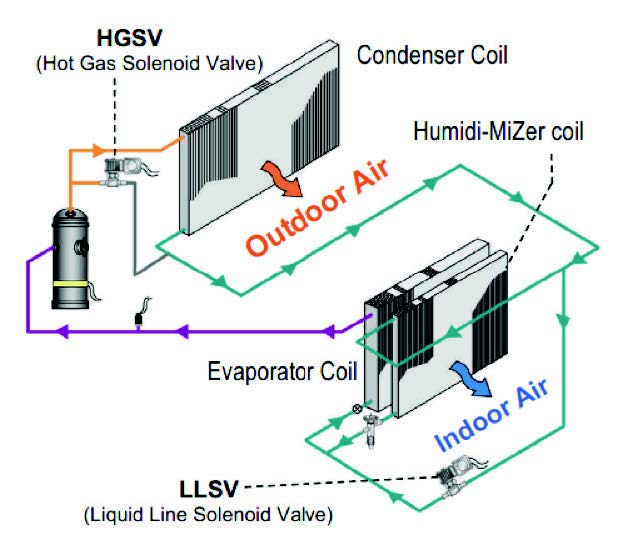 Physical Representation of thermostat terminations (See Form 48HC-4-14-08PD Rev C for reference)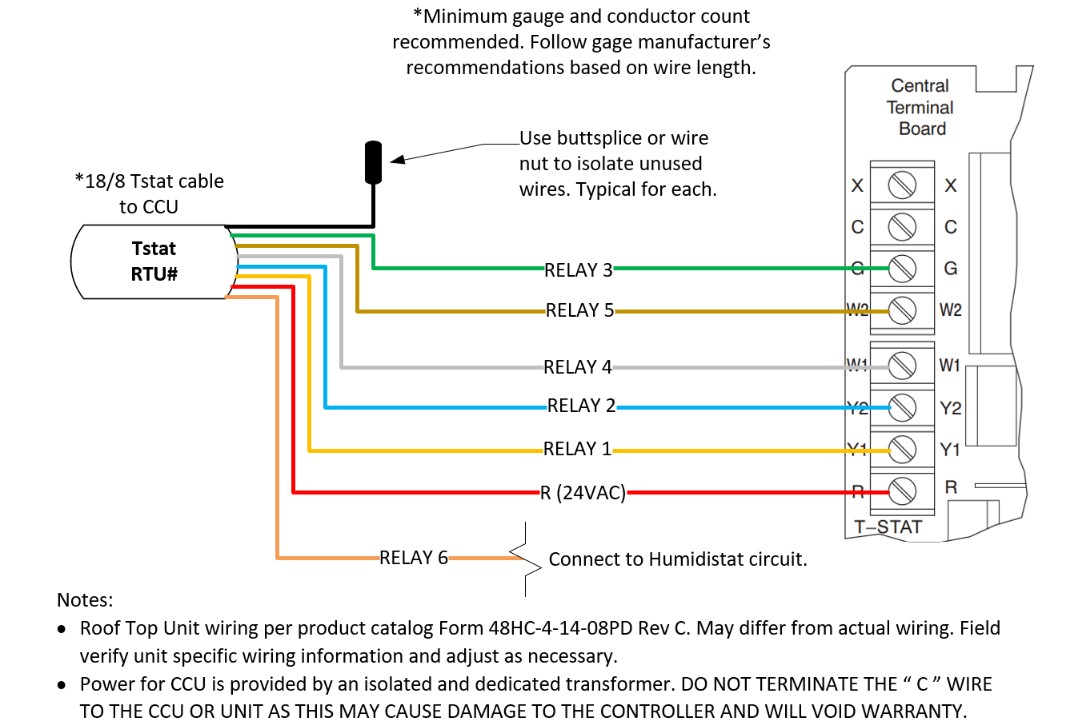 Humidistat connection (See Form 48HC-4-14-08PD Rev C for reference)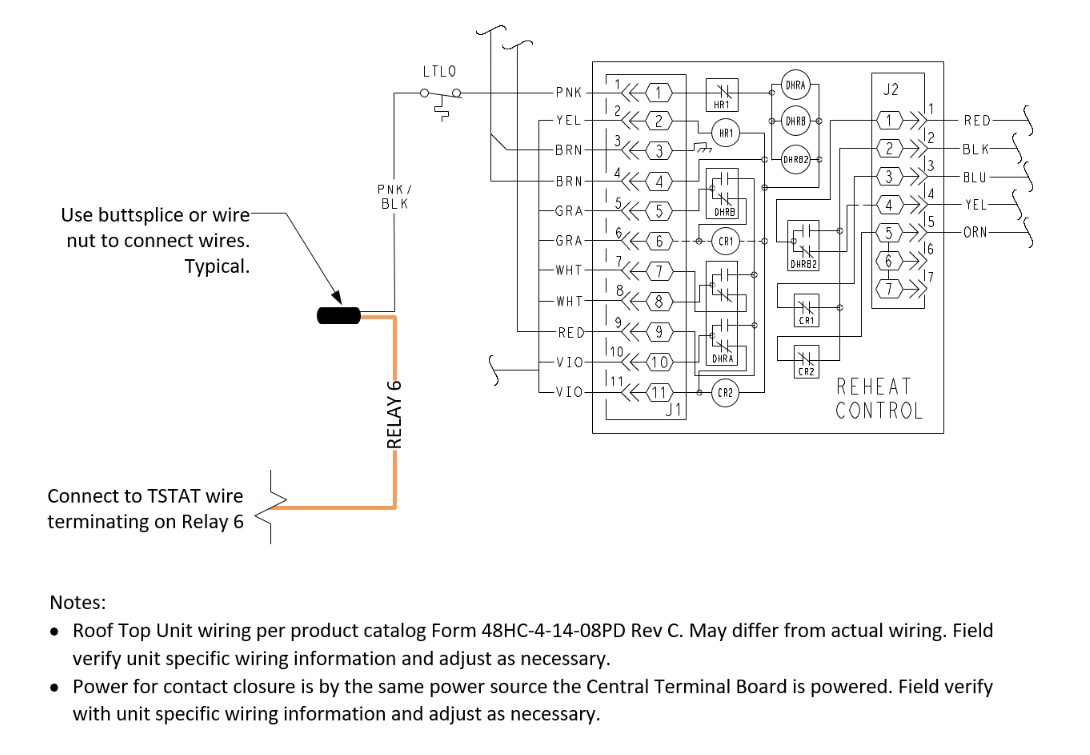 Humidistat wires picture (for reference only)
Wiring at 75F®CCU™ CM Board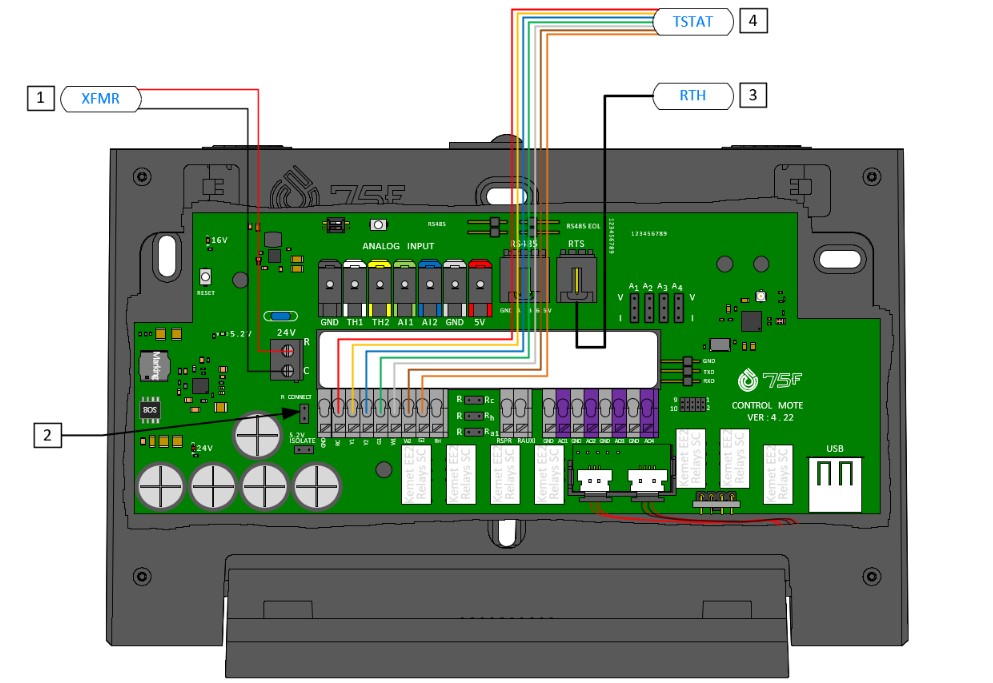 Notes:
75F®CCU™ power requirements = 0.8amps @24VAC/DC. A dedicated power supply is highly recommended.
Remove R Connect (J14) jumper to use relays as dry contacts. Failure to do so will void the warranty.
Install either the 75F®Duct Sensor on the Return Ductwork or the 75F® Wall Sensor on an area served by the unit for backup or Temp Influencing zone. See 75F®CCU™ commissioning notes on Control Design Documents.
Thermostat and De-hum connections. Follow manufacturer's gauge recommendations depending on wire length.
75F®CCU™ Commissioning
System Profile will be configured as a Staged RTU and depending on the application it can be either VAV or DAB.
Enable: Relay-1, 2, 3, 4, 5, & 6
Configure Relays as follows:
Relay 1 = Cooling Stage 1
Relay 2 = Cooling Stage 2 (If applicable)
Relay 3 = Fan Low Speed(DAB) or Fan Stage 1(VAV)
Relay 4 = Heating Stage 1
Relay 5 = Heating Stage 2 (If applicable)
Relay 6 = Dehumidifier
At the CCU™, in the 75F home screen you will need to click on the "SYSTEM" tab to set min/max indoor humidity. This setting can be changed through the users 75F® Facilisight™ account or through the internal portal as well. The percentage specified in this setting will be the threshold the De-hum Relay will use to enable/disable the Humidi-Mizer® on the Carrier® WeatherMaster® Package Roof Top Unit.