| Hardware devices
The products and the actual physical devices that are a part of the 75F BMS are also addressed as the hardware. The 75F provides a portfolio of hardware devices.
The devices belong to four major categories:
Sensors
Nodes
Stats
CCU's
| Overview of 75F Product hardware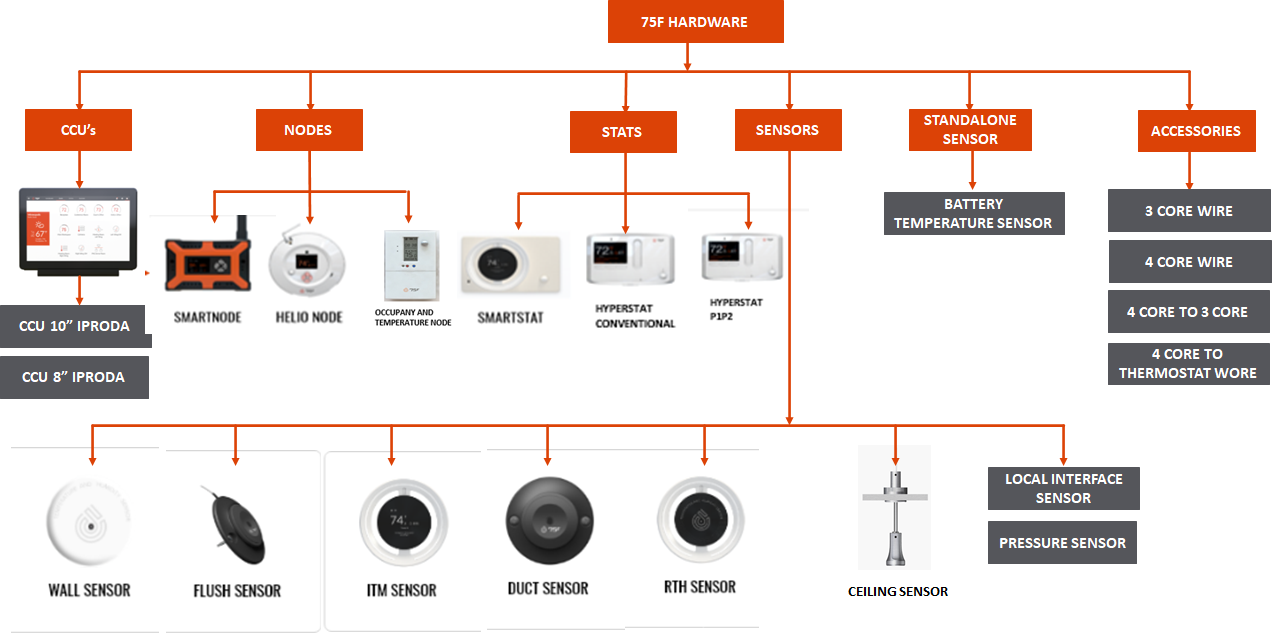 CCU's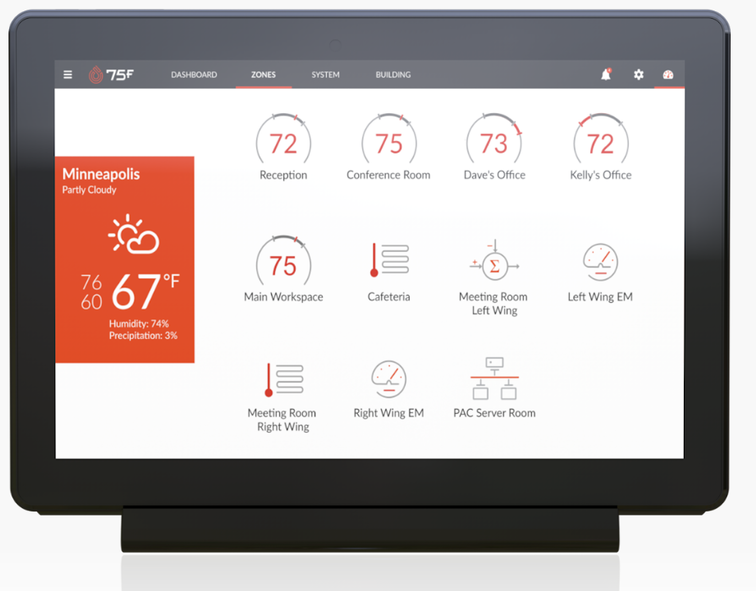 CCU is a 75F hardware device that is used to control and monitor the building/ system level equipment (AHU / RTU). It in this CCU the 75F software Renatus is installed, and system-level profiles are configured to selectively control equipment.
For more information on CCU refer to Central Control Unit Installation & Central Control Unit (CCU) Navigation and Indicators.
Nodes
Nodes are terminal devices used to control and monitor terminal-level equipment like dampers and actuators.
75F support two types of nodes.
Smart Node
The Smart Node is a room equipment controller. It is envisaged as a general-purpose device that controls dampers for airflow and a couple of lights. It operates off 24v and has inputs for measuring room and airflow temperatures.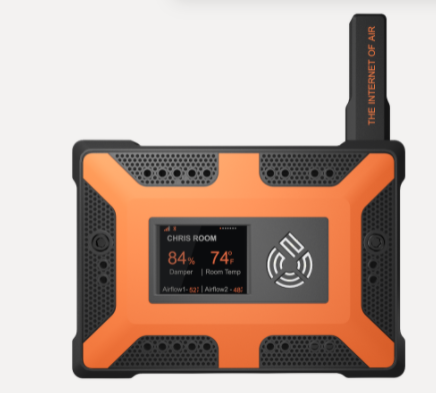 For more information on smart nodes refer to Smart Node Installation & Smart Node Navigation and Indicators.
Helio Node
The HelioNode is an advanced IoT room controller created for temperature, IAQ, and lighting control in office buildings. It is easy to install in the ceiling and contains within it all the sensors for measuring temperature, humidity, CO2, occupancy, and light levels which eliminates wiring runs or additional integration of sensors.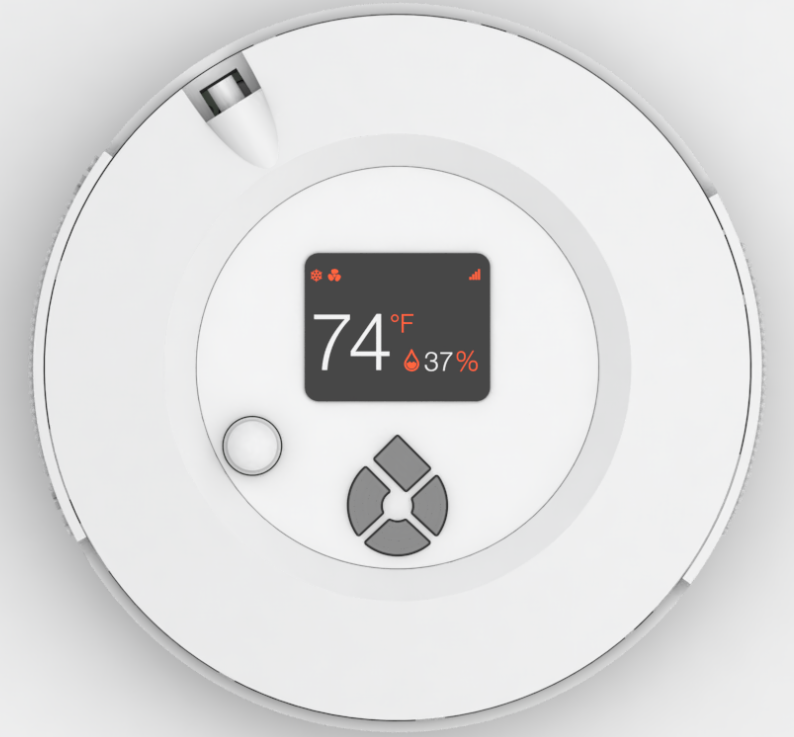 For more information on Helio Node refer to HelioNode Installation & HelioNode UI Navigation.
Occupancy and Temperature Node (OTN)
Occupancy and Temperature Node is a device, tailormade for those customers who need micro zone level controls that can override the existing schedules. This comes in handy in cases where there is dynamic occupancy in a space like:
A restaurant where occupancy varies from day to day and time to time.

Work environments post Covid19 where the employee strength is cycled predicting which desks will be occupied and which will not is a new requirement to handle energy efficiency.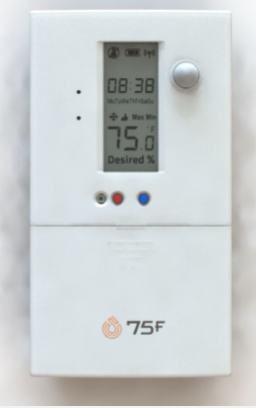 For more information on Battery Powered Occupancy Sensors (BPOS) refer to Occupancy & Temperature Node- Temperature Influencing
Stats
Stats is another type of terminal device that is used to control and monitor the terminal level equipment such as the fan coil units, heat pump units, etc.
75F supports two types of stats.
Smart Stat
The SmartStat is a combination of an ITM and SmartStat daughter board that adds physical control capabilities to the ITM. The SmartStat daughter board is a slave device that connects to the ITM over 4 wire RS-485 interface.
The SmartStat adds occupancy detection in addition to temperature, humidity, and light measurement on the ITM. It also has an additional button that allows local user control for functions like fan speed depending on the profile. In addition, the SmartStat can be ordered with a CO2 sensor to add room measurement for places like conference rooms.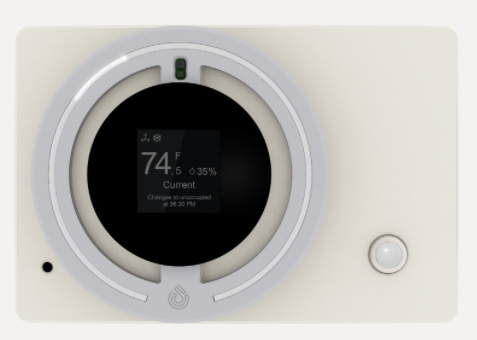 For more information on Smart Stat refer to Smart Stat Installation & Smart Stat Navigation and Indicators.
Hyper Stat
The HyperStat, conceived as a successor to the original SmartStat, has evolved with 8 onboard sensors, providing the advanced capability of the thermostat, humidistat, and IAQ sensing station with both modulating and staged equipment control. HyperStat provides monitoring and control of a wide variety of HVAC standalone equipment through its various relay stages or modulating analog outputs.
The Hyper Stat is a Wall mount product, and the design is done thoughtfully to make sure that the product blends into most of the commercial spaces while still giving a fresh and contemporary feel compared to dated building control interfaces.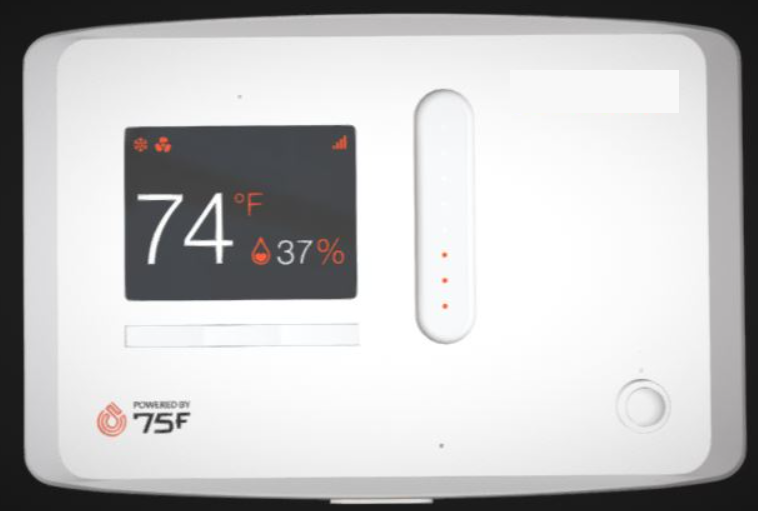 For more information on Hyper Stat refer to HyperStat Installation & Hyperstat UI.
Sensors
Sensors are devices used to sense and translate various parameters in the building like the temperature, humidity, light levels, pressure, etc.., they reach every nook and corner of the building to sense information, and communicate it back to the terminal devices such as the nodes and stats.
For more information on sensors refer to Intro to the 75F Family of Sensors
Based on the location it can be in the building the 75F support various type of sensor.
Differential Pressure Sensor (DPS)
The Differential Pressure sensor extends the sensor capabilities of 75F's controllers. Its use opens up an array of additional applications from flow sensing in VAV boxes to monitoring filter performance in AHUs.
The DPS's compact profile and rugged construction allow it to be mounted on the sides of VAV boxes, hard supports, or rafters.
For more information on Differential Pressure Sensors refer to Differential Pressure Sensor (DPS) Installation
75F also supports a portfolio of 3rd party hardware below is a summary of the same.